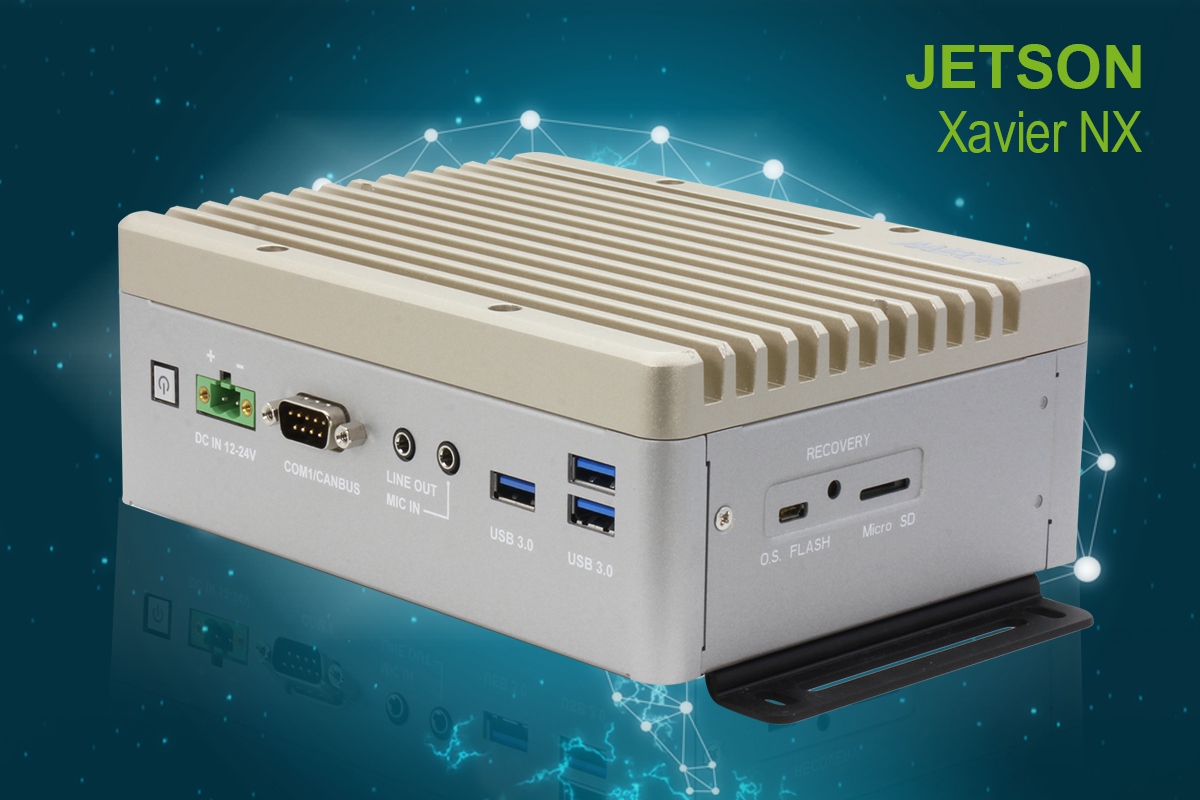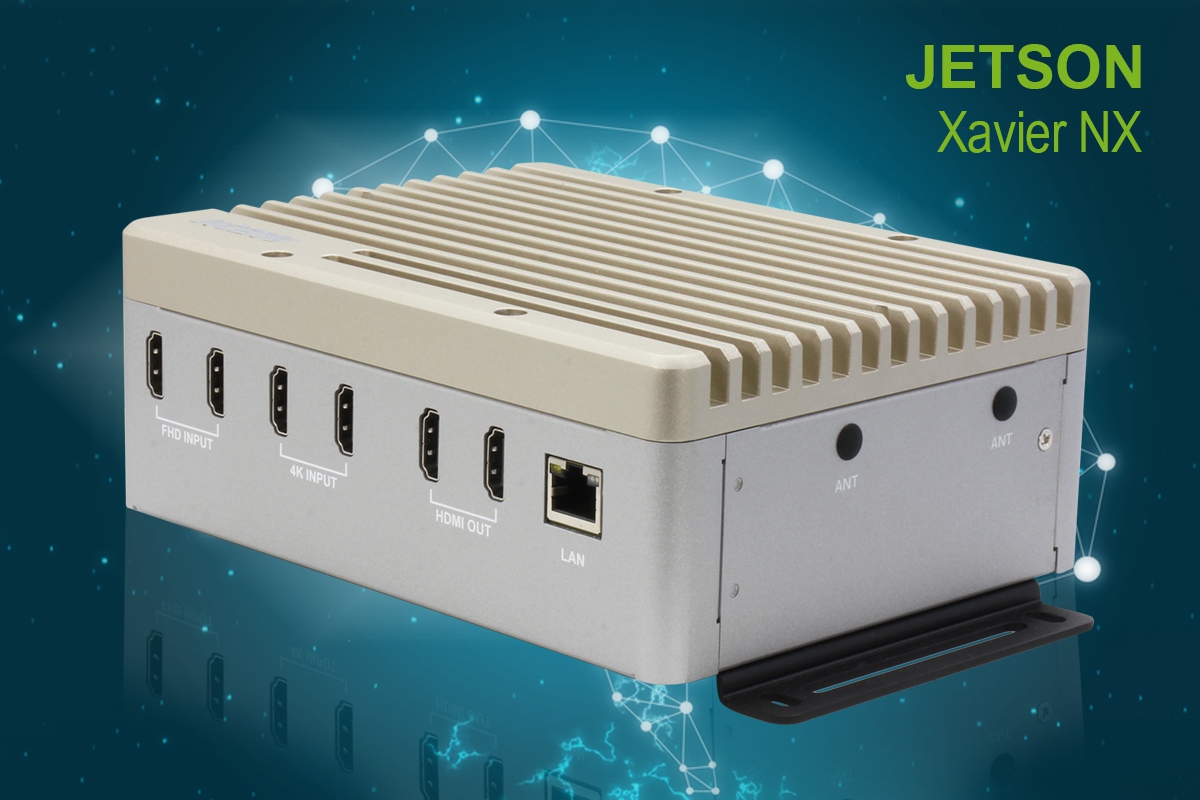 BOXER-8256AI
AI@Edge Fanless Embedded BOX PC with NVIDIA Xavier NX, HDMI Input x4
---
Features
HDMI x 4 for Video Input 1.4
HDMI x 2 for Video Display 2.0
USB Type A x 3 for USB 3.2 Gen 1
DB9 for RS-232/422/485 (By switch) and CANbus x1
RJ-45 x 1 for GbE LAN
M.2 M-Key (PCIEx4)
M.2 B-Key (PCIEx2 and USB 3.0)
M.2 E-key (PCIEx1 and USB 2.0)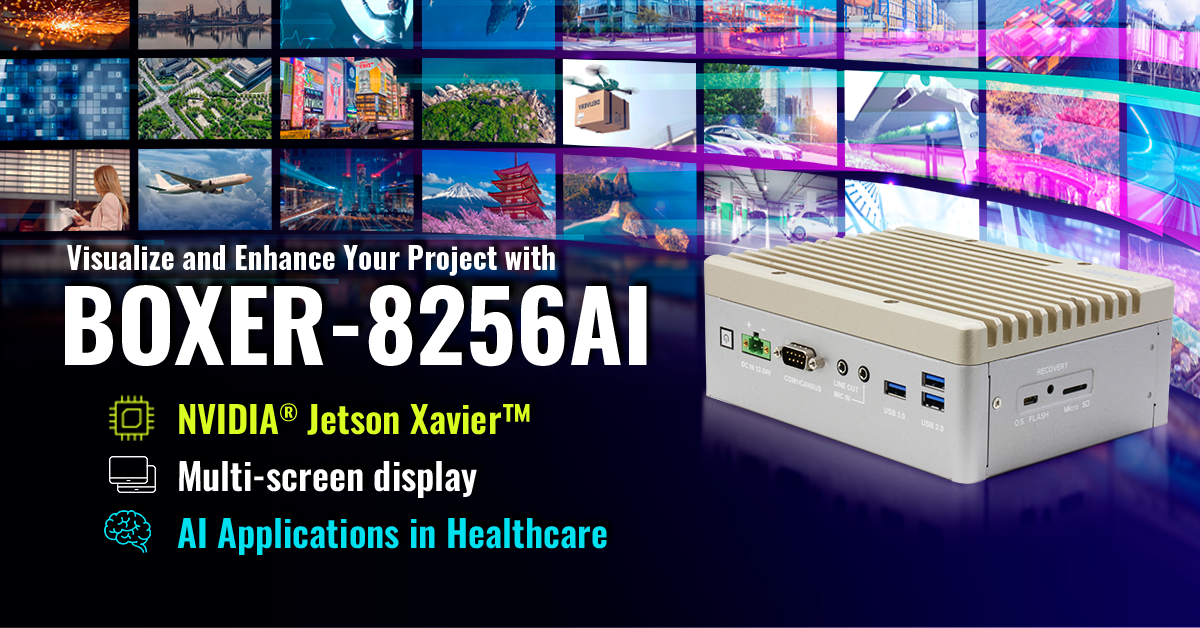 The BOXER-8256AI is AAEON's newest NVIDIA® Jetson Xavier™ NX embedded BOX PC, designed for smart healthcare equipment, digital signage, and entertainment.
A sophisticated, practical design featuring four HDMI input ports allows you to facilitate real-time stream filtering. The Jetson Xavier NX's powerful performance enables you to run multiple AI algorithms and analyze live video streaming with speed and precision.
The BOXER-8256AI also boasts a rich I/O, featuring interfaces such as CANbus, USB and audio, along with Wi-Fi/4G/5G wireless network connectivity and enhanced storage such as eMMC and 2.5" HDD.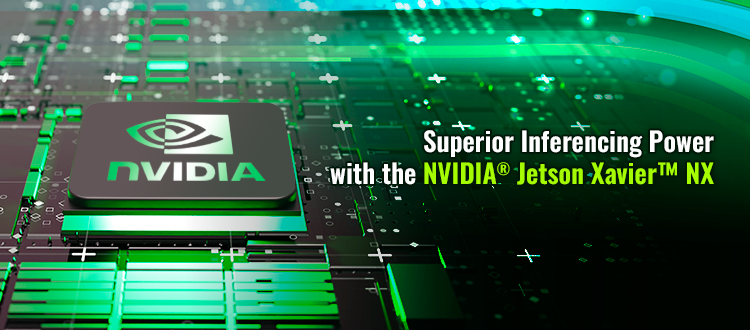 Superior Inferencing Power with the NVIDIA® Jetson Xavier™ NX
Utilizing the Jetson Xavier NX's Volta™ GPU architecture, which offers 384 NVIDIA CUDA® and 48 Tensor Cores for a peak AI performance of 21 TOPS, the BOXER-8256AI offers the inferencing power to enhance the accuracy of video stream analysis for public safety applications with real-time identity management.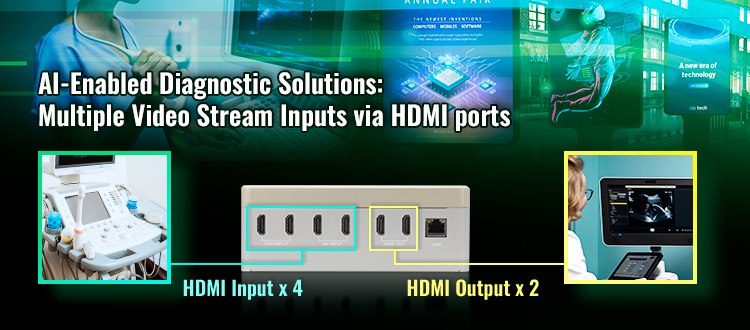 Al-Enabled Diagnostic Solutions
The BOXER-8256AI suits AI-enabled diagnostic equipment, with four HDMI input ports, which support two 4K@30fps and two 1080P@60fps video stream inputs. This technology can be utilized for healthcare applications such as ultrasound and colonoscopy devices, with procedure video fed to the BOXER-8256AI via its HDMI input ports. With the BOXER-8256AI receiving procedural video, it can then analyze and provide diagnostic assistance using multiple AI algorithms. Pathological findings can then be shown on split-screen displays, with the BOXER-8256AI's visual interpretation shown alongside the data supporting it.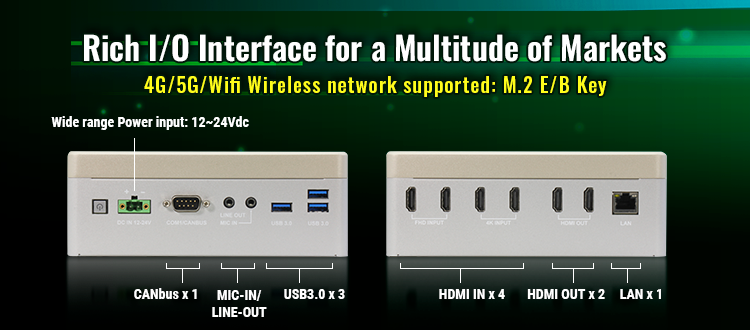 Rich I/O Interface for a Multitude of Markets
The BOXER-8256AI supports rich I/O interfaces such as CANbus, RS-232, LAN, USB and audio.
Additionally, it supports a 2.5" SATA drive and a wide range power input of 12~24Vdc. The BOXER-8256AI also enables various wireless networks, such as 4G, 5G, and Wi-Fi via M.2 expansion slots. These features give the BOXER-8256AI versatile deployment options for any application, anywhere. 
BOXER-8256AI
System

AI Accelerator
NVIDIA Jetson Xavier NX
CPU
6-core NVIDIA Carmel Arm®v8.2 64-bit CPU
System Memory
8GB LPDDR4x
Storage Device

16GB eMMC x 1
MicroSD Slot x 1
M.2 M-Key 2280 x 1 (PCIE[x4])
2.5" SATA x 1

Display Interface
HDMI 2.0 x 2
Ethernet
RJ-45 x 1 for GbE LAN
I/O

USB Type A x 3 for USB 3.2 Gen 1
DB9 for RS-232/422/485 (By switch) and CANbus x1
HDMI x 2 for Video Display 2.0
HDMI x 4 for Video Input 1.4 (Limitation have stated in User manual)
Mic-in x 1, Line-Out x 1
Micro USB for OS Flash x 1
Power ON/OFF switch x 1
Recovery button x 1
SMA Antenna hole x 2

Expansion

M.2 B-Key 3042/3052 x 1 (PCIE[x2] + USB 3.0)
M.2 E-key x 1(PCIE[x1] + USB 2.0)

Indicator
Power LED x 1
OS Support
Linux (NVIDIA Jetpack 4.6.2 or above)

Power Supply

Power Requirement
DC-in 12-24V with 2-pin terminal block

Mechanical

Mounting
Wall mount kit
Dimensions (W x D x H)
7.09" x 5.35" x 2.64" (180 mm x 136 mm x 67 mm )
Gross Weight
4.23 lb (1.92 kg)
Net Weight
2.87 lb (1.3 kg)

Environmental

Operating Temperature
-5°F ~ 140°F (-15°C ~ 60°C with 0.5 m/s airflow)
Storage Temperature
-40°F ~ 176°F (-40°C ~ 80°C)
Storage Humidity
5 ~ 95% @ 40°C, non-condensing
Anti-Vibration
3.5 Grms/ 5 ~ 500Hz/ operation – eMMC
Anti-Shock
50G, IEC 60068-2-27, half sine, 11 ms duration – eMMC
Certification
CE / FCC class A
For packing list, detailed specifications and other product information, download the Datasheet or User Manual.