BOXER-8250AI Named Part of CRN's Top 10 Hottest IoT Devices of 2020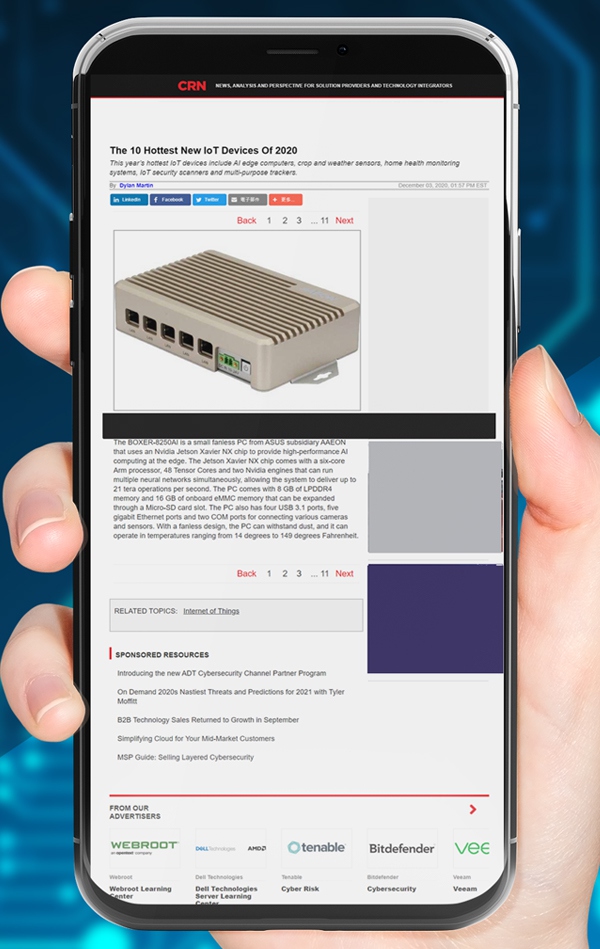 AAEON, a leading manufacturer of AI Edge and IoT solutions, recently received the honor of the BOXER-8250AI being named as one of CRN's Top 10 Hottest IoT Devices of 2020. Powered by the NVIDIA® Jetson Xavier™ NX, the innovative system has proven very popular among IT professionals and systems integrators.
CRN is a professional news outlet focused on technology news, providing insights for IT professionals with over 34 years of experience. Each year they release their Top 10 lists highlighting the best products and most important news stories of the year. With the release of their 2020 lists, CRN named the BOXER-8250AI as one of their Top 10 Hottest IoT Devices of 2020. The BOXER-8250AI has quickly become one of AAEON's most popular products on the market thanks to its innovative design and ability to deliver greater AI edge computing performance.
Powered by the NVIDIA Jetson Xavier NX, the BOXER-8250AI combines rugged design and flexible I/O in a compact platform. The system offers AI Edge computing performance that's perfect for a wide range of applications, helping to build and deploy AIoT ecosystems as well as power Smart City and Smart Factory applications. The BOXER-8250AI has even been deployed in pandemic prevention systems including social distance monitoring, mask detection, and body temperature monitoring.
"AAEON is dedicated to creating hardware solutions that meet the needs of IT professionals around the world, and we're happy to see our efforts recognized with the inclusion of the BOXER-8250AI on this list," said Alex Hsueh, Associate Vice President of AAEON's System Platform Division. "The BOXER-8250AI is among the many devices we have delivered to partners and developers to create the vital tools needed to fight the COVID-19 pandemic, as well as to expand deployment of newer AI technologies and applications."