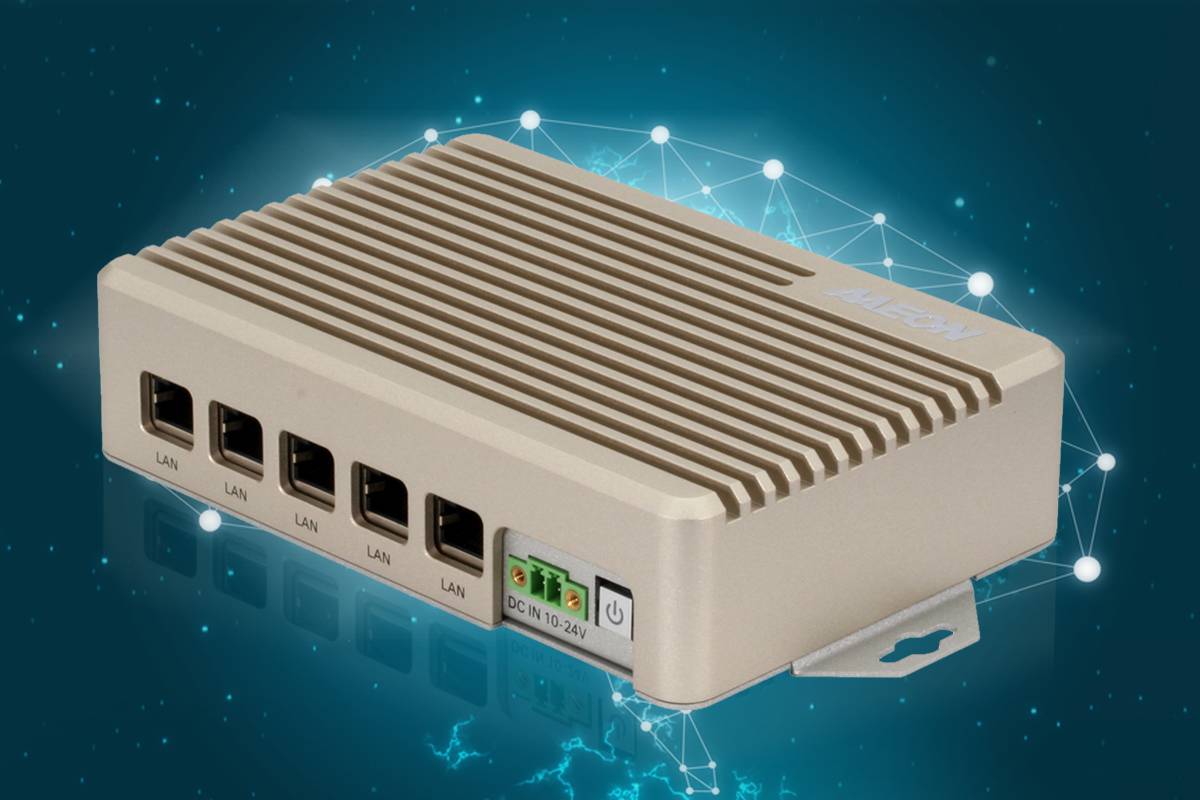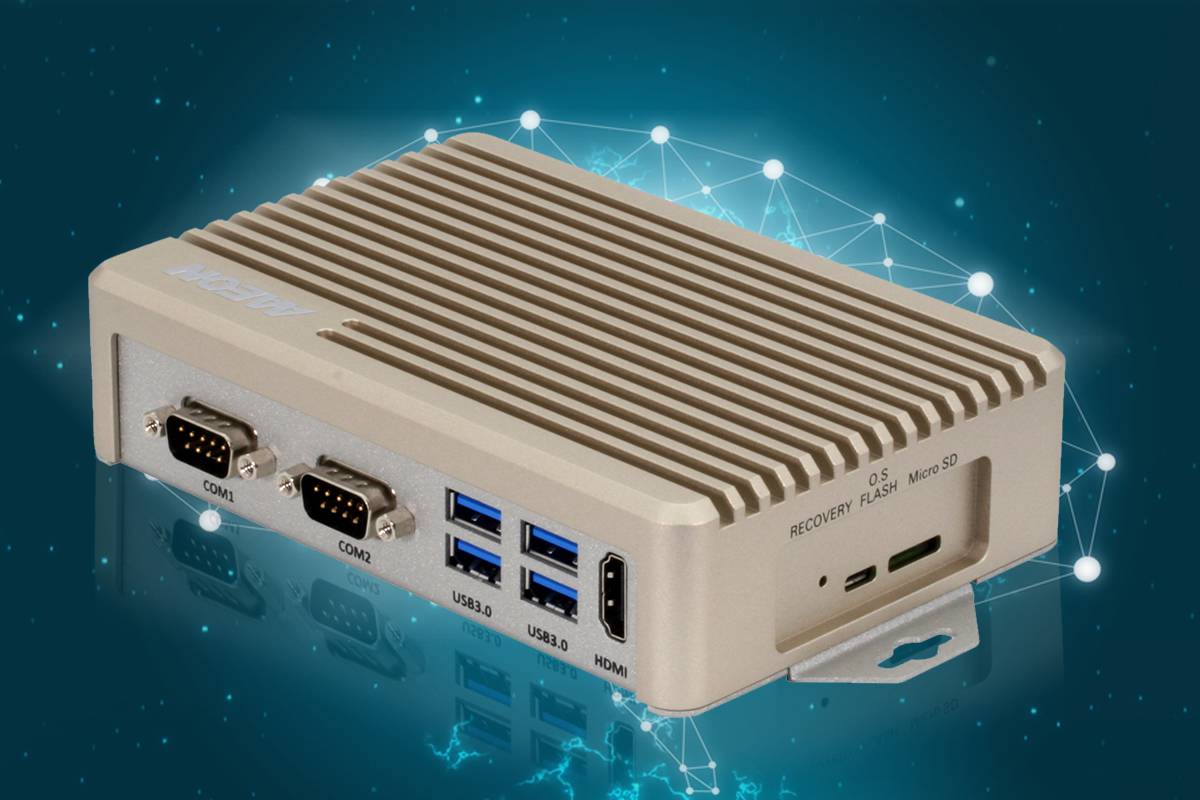 BOXER-8250AI
AI@Edge Fanless Embedded Box PC with NVIDIA Jetson Xavier NX, 5 GbE LAN Ports
---
Features
NVIDIA Jetson Xavier NX
6-core NVIDIA Carmel ARM®v8.2 64-bit CP)
8GB LPDDR4x + 16GB eMMC + Micro-SD card slot
USB 3.2 Gen 1 x 4
10-24Vdc Power input
The BOXER-8250AI embedded AI Edge system brings the power of the NVIDIA® Jetson Xavier™ NX to powering intelligent applications and edge networks. The NVIDIA Jetson Xavier NX SoC features a six-core 64-bit ARM processor, boasting 384 CUDA® cores, 48 Tensor Cores, and two NVDIA engines capable of running multiple neural networks in parallel, delivering accelerated computing performance up to 21 TOPS. Built to bring dedicated AI processing to the edge, the system also features 8GB of LPDDR4 memory and 16GB of onboard eMMC memory that's expandable through the Micro-SD card slot.
The BOXER-8250AI features a flexible I/O layout with four USB 3.2 Gen 1 ports, five Gigabit LAN ports and two COM ports, allowing deployment with a variety of sensors or cameras. The BOXER-8250AI is built rugged to deploy in a range of environments. Fanless design keeps out dust, allowing for reliable operation; while wide operating temperature range (-10°C ~ 65°C) enables consistent performance wherever it's deployed.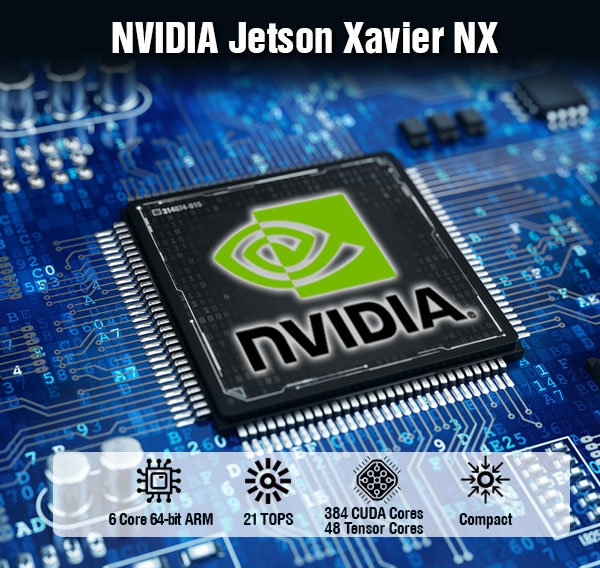 The BOXER-8250AI family of AI@Edge box PCs features the NVIDIA Jetson Xavier NX, combining the 6 core ARM® Carmel CPU and Pascal™ GPU with 384 CUDA cores to deliver performance built for AI@Edge applications. Compact size, unique I/O configurations and wide operating temperature range means the BOXER-8250AI family can operate in harsh work environments and provide flexibility for any AI application, like facial recognition, license plate identification and people counting.
The BOXER-8250AI is equipped with a 6-core ARM processor, supporting 384 CUDA cores & 48 Tensor cores, offering powerful computing performance up to 21 TOPS.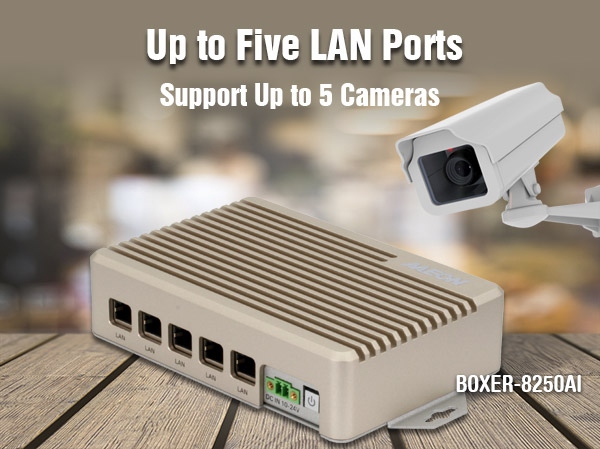 BOXER-8250AI features Intel® i210 LAN chip supporting 1Gb/s bandwidth, providing real-time processing while helping prevent framerate loss.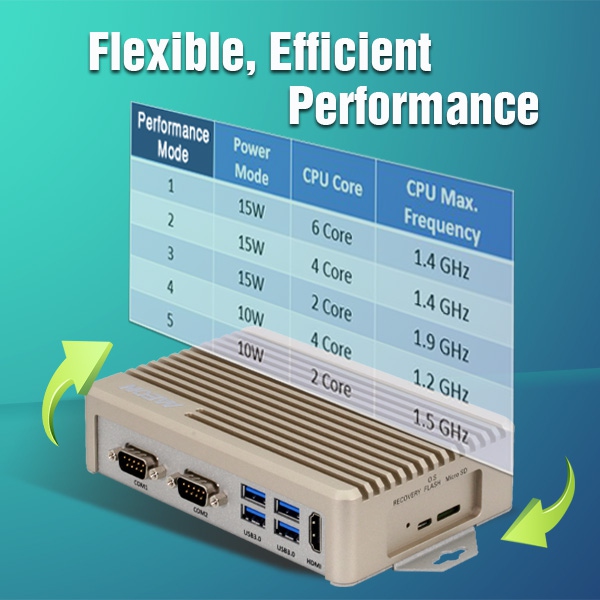 The BOXER-8250AI supports five different performance modes to scale to processing needs. Users can select different modes to fit their application without needing to always run at full power, increasing efficiency and improving power consumption and thermal performance. Thanks to AAEON's extensive testing and development, users have all the information they need, including operating temperature ranges, to select the right mode for their application.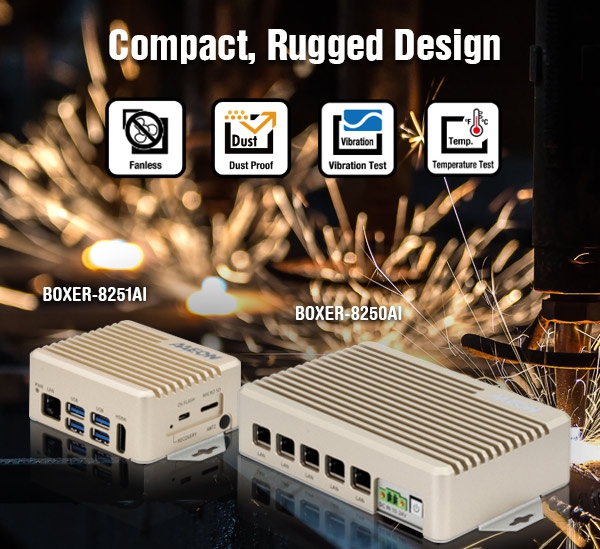 Power input protection and anti-dust/anti-vibration construction with fanless design provides rugged reliable operation in harsh working environments.
BOXER-8250AI
System

AI Accelerator
Nvidia Jetson Xavier NX
CPU
6-core NVIDIA Carmel ARM® v8.2 64-bit CP
System Memory
8GB LPDDR4x
Storage Device
16 eMMC and Micro-SD card slot
Display Interface
HDMI 2.0
Ethernet
10/100/1000Base-TX x 5
I/O

USB 3.2 Gen 1 x 4 GbE LAN x 5
RS-232 x 2
HDMI x 1
Micro-USB for Flash OS x 1 DC Power Input x 1
Power Button x 1 Recovery Button x 1
Micro-SD card slot x 1

Expansion
—
Indicator
Power LED x 1
OS Support
ACLinux 4.9 or above (Compatible with Ubuntu 18.04)

Power Supply

Power Requirement
10 ~ 24V DC with 2-pin terminal block

Mechanical

Mounting
Wallmount
Dimensions (W x D x H)
6.92" x 3.94" x 1.54" (175.8mm x 100.0mm x 39.0mm)
Gross Weight
2.48 Ibs (1.12 kg)
Net Weight
1.46 Ibs (0.66 kg)

Environmental

Operating Temperature

A1, A3 : 14°F ~ 149°F (-10°C ~ 65°C, according to IEC60068-2 with 0.5 m/s AirFlow)

A4 : -13°F ~ 140°F (-10°C ~ 60°C, according to IEC60068-2 with 0.5 m/s AirFlow)

Storage Temperature
-40°F ~ 176°F (-40°C ~ 80°C)
Storage Humidity
95% @ 40°C, non-condensing
Anti-Vibration
3.5 Grms/ 5 ~ 500Hz/ operation MicroSD or eMMC
Certification
CE/FCC class A
For packing list, detailed specifications and other product information, download the Datasheet or User Manual.