BOXER-8651AI
AI@Edge Compact Fanless Embedded AI System with NVIDIA® Jetson Orin NX
---
Features
NVIDIA® Jetson Orin NX
Expansion: M.2 2230 E-Key x 1, M.2 3052 B-Key x 1
USB 3.2 Gen 2 (Type-A) x 2 & USB 2.0 (Type-A) x 2
COM, DIO, CANBus
Operating Temperature: -5°F~ 131°F (-15°C ~ 55°C)
At just 105mm x 90mm x 52mm, the BOXER-8651AI is the market's smallest fanless system engineered to leverage the advanced capabilities of the NVIDIA® Jetson Orin™ NX, making it the ultimate platform for bringing AI to the very edge. Easily deployed via wall mount to deliver optimal performance in terms of connectivity and real-time computing, the BOXER-8651AI thrives in even the tightest spaces.
The BOXER-8651AI is designed to add value and offer market-ready solutions for projects across various industries, giving your business an advantage not only in sophistication, but also efficiency and speed to market.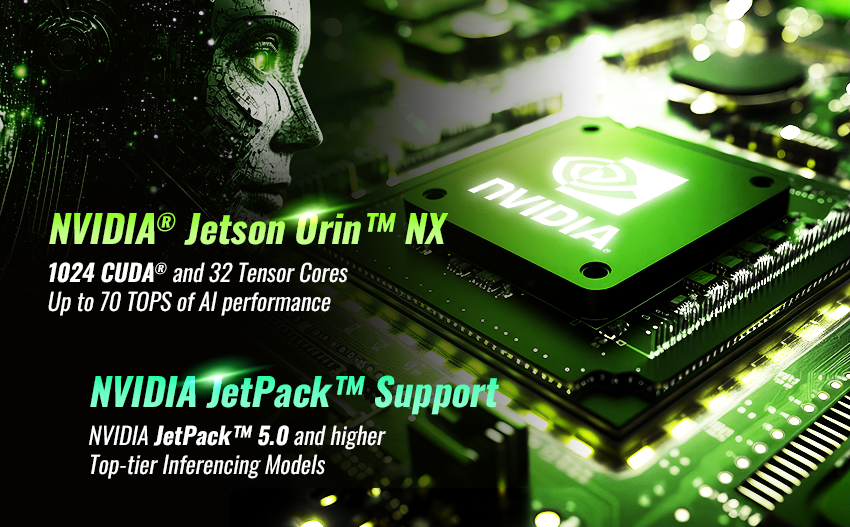 NVIDIA® Jetson Orin™ NX
Equipped with an NVIDIA Ampere architecture GPU featuring 1024 CUDA® and 32 Tensor Cores, the BOXER-8651AI, integrated with the NVIDIA Jetson Orin™ NX module, delivers cutting-edge inferencing capabilities with up to 70 TOPS of AI performance and dedicated Deep Learning Accelerator fixed-function hardware for handling more complex workloads.
NVIDIA JetPack™ Support
Compatible with NVIDIA JetPack™ 5.0 and higher, the BOXER-8651AI enables users to harness a comprehensive library of tools for building top-tier inferencing models. This enhances application performance by accelerating graphics, data processing, and image classification functions which can be tailored to your specific needs.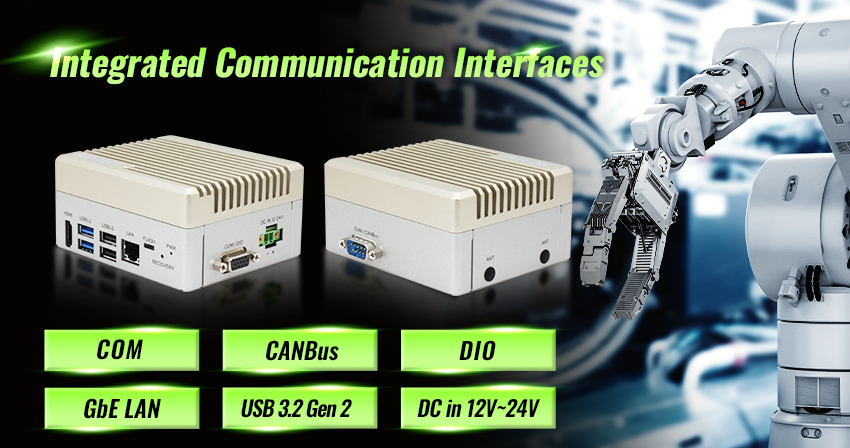 The BOXER-8651AI features versatile I/O options, including DB-9 and DB-15 ports for RS-232 (Rx/Tx/CTS/RTS)/RS-485, CANBus, and DIO functions, facilitating high-speed serial communication with external devices, even in industrial settings with legacy infrastructure. Additionally, the device provides HDMI 2.1 display output, GbE LAN, and a variety of USB Type-A ports, supporting both USB 3.2 Gen 2 and USB 2.0 functionality.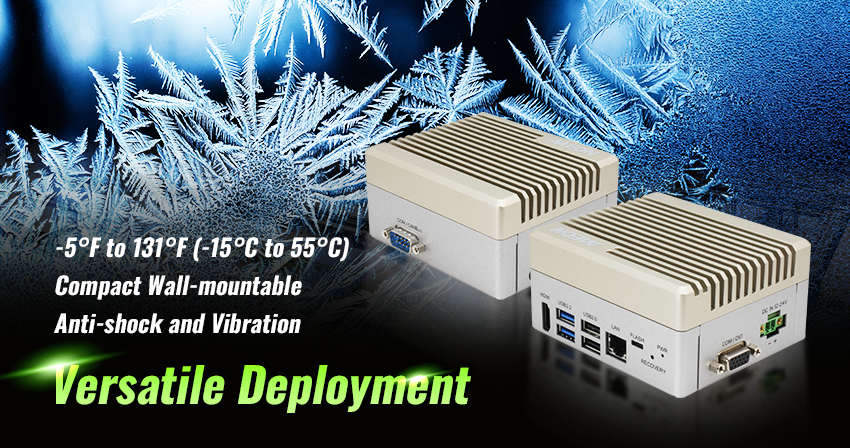 With the ability to operate in a wide temperature range from -5°F to 131°F (-15°C to 55°C) and a compact wall-mountable chassis, the BOXER-8651AI is well-suited for deployment in various settings and conditions across a range of markets. Its anti-shock and vibration resistance features further enhance its durability in challenging deployment spaces.
Accommodating software stacks that can handle the execution of multiple simultaneous complex tasks requires substantial storage. Therefore, the BOXER-8651AI features an M.2 3052 B-Key slot to accommodate M.2 2242 B+M Key SSDs and an M.2 2230 E-Key slot for additional storage capacity. These versatile expansion slots can also be used for wireless communication functions, including 4G, 5G, Wi-Fi, and Bluetooth, making it ideal for handling multiple complex tasks.
BOXER-8651AI
System

AI Accelerator
NVIDIA® Jetson Orin NX
CPU
6-core Arm® Cortex®-A78AE ARMv8.2 64-bit CPU
System Memory
8GB LPDDR5
Storage Device

M.2 3052 B-Key x 1 for M.2 2242 B+M Key SSD (Default Storage)
M.2 2230 E-Key x 1 (Optional)

Display Interface
HDMI 2.1 (Type-A) x 1
Ethernet
RJ-45 x 1 for GbE LAN
I/O

USB 3.2 Gen 2 (Type-A) x 2
USB 2.0 (Type-A) x 2
DB-9 for RS-232 (Rx/Tx/CTS/RTS)/485 x 1 and CANBus FD x 1
DB-15 for RS-232 (Rx/Tx)/422/485 x 1 and DIO x 8
Micro USB x 1 for OS Flash
Recovery Button x 1
Antenna x 2

Expansion

M.2 3042/3052 B Key x 1 (4G/5G/M.2 2242 B+M Key storage)
M.2 2230 E Key x 1 (Wifi/BT/Storage)
SIM Slot x 1

Indicator
Power LED x 1
OS Support
Linux (NVIDIA Jetpack™ 5.0 up)

Power Supply

Power Requirement
12V~24V DC in with 2 pins terminal block x 1

Mechanical

Mounting
Wallmount
Dimensions (W x D x H)

4.13" x 3.54" x 2.05" (105mm x 90mm x 52mm), w/o bracket

Gross Weight
2.4 lb. (1.1Kg)
Net Weight
1.58 lb. (0.7Kg)

Environmental

Operating Temperature

-5°F ~ 131°F (-15°C ~ 55°C), according to IEC60068-2 with 0.5 m/s AirFlow

Storage Temperature
-40°F ~ 185°F (-40°C ~ 85°C)
Storage Humidity
5% ~ 95% @ 40C, non-condensing
Anti-Vibration
3.5Grm / 5~500Hz / Operation
Anti-Shock
50G peak acceleration
Certification
CE/FCC class A
For packing list, detailed specifications and other product information, download the Datasheet or User Manual.